Oberammergau 2003
Note: this is not a Herts and Bucks Wing activity, but an annual course organised by HQ Air Cadets. Six places are available for every Region, so talk nicely to your Squadron Commander if you want to be put forward for the next one ...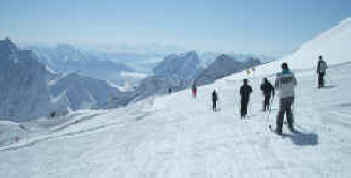 36 cadets, 4 supervising officers and a team of RAF Ski instructors arrived in Oberammergau one Saturday afternoon in April, and settled into four guesthouses in this beautiful Bavarian village.
Boots, skis and poles were hired, and everyone had time to unpack and settle into their rooms before meeting at a restaurant for an initial briefing, and an excellent meal and social evening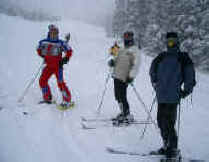 There followed six days of excellent skiing on and around the Zugspitze, the highest mountain in Germany. On the first morning we were grouped according to previous experience and ability, from group 1 (expert) to group 6 (absolute beginner).
We skied in these groups for the rest of the week, and it was remarkable just how much everyone's skiing improved day by day as our instructors led us down increasingly challenging runs, progressively improving our confidence & technique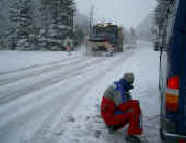 Although April is the end of the skiing season, it snowed heavily on most days. On the second morning we drove through particularly heavy snow to the Ehrwald, in Austria. The normally efficient authorities seemed to have been caught slightly by surprise, and we were putting snow chains on the bus near the Austrian border before the first snow plough appeared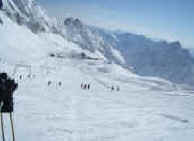 During the week, we experienced a wide range of snow and weather conditions, ranging from perfect piste to fresh powder, and from brilliant sunshine to whiteout.
It is important to learn how to ski safely in difficult conditions, and the instructors had plenty of opportunities to teach us how to deal with different snow and weather conditions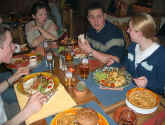 At the end of every day, we returned to our guest houses for tea and cakes, and had some free time to shower, walk into town or visit the swimming pool before meeting for dinner in one of Oberammergau's many excellent restaurants. On most days the whole course dined together, but there were also evenings when we dined as a guest house or ski group, so there was always someone new to talk to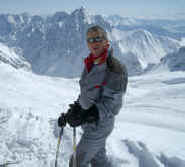 Throughout the week, we enjoyed the company of Air Commodore Chitty, who spent a day with each of the skiing groups. No doubt he picked up some useful skiing tips from our instructors, as well as getting to know the students, and seeing at first hand the many benefits of the course