Risk Assessment
What is risk?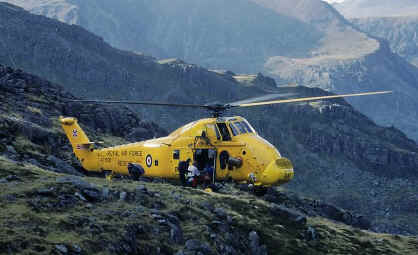 We all know what we mean by Risk, but it's worth clicking here to look at the Health & Safety Commission's statement on Risk Perception in Adventure and Outdoor Activities. Unlike those who seek to eliminate all risk from life, or to equate risk with blame, the statement accepts that a certain level of risk is intrinsic to adventure activities and makes some constructive points about how that risk should be balanced against the benefits of the activity
There's nothing new about risk assessment. It's fundamental to group leadership in any form of adventure training. To take a simple example, before I lead any group walking in wild country, I consider the terrain, the weather, the age and experience of the group members and the standard of their clothing and equipment. To minimise risk, I select a route appropriate to the capabilities of the group, ensure that everyone is properly briefed and check that appropriate emergency equipment is taken
During the walk, I constantly re-assess factors like the terrain, the weather, the time of day, and the morale and fitness of the group. Our normal practice is to give every cadet a turn at leading the group during the walk so that they all learn about navigation, pace setting, group management and how to handle (simulated) emergencies. As a result, active risk assessment is effectively being done continuously by every member of the group from the leader down to the most junior cadet
It's worth repeating that we don't expect to eliminate risk altogether. Accidents happen, and people make mistakes. As the HSC statement says, "... the provider should ... take steps to ensure that the risks are managed and controlled so far as is reasonably practicable while allowing the potential benefits to be delivered."
So what's changed?
Well publicised tragedies involving groups of young people have forced adventure training providers to review the way they manage and run their activities. Current thinking is that risk assessment must not only be done, it must be seen to be done, In other words there needs to be evidence that the level of risk has been assessed and that appropriate measures have been taken to minimise them. A cynic might say that it also makes it easier to find someone to blame when the case comes to court...
As one of the country's major providers of adventure training for young people, the ATC is keen to adopt best practice, and it is now mandatory to complete an written risk assessment before undertaking any activity, including Duke of Edinburgh Award expeditions. Details can be found in the new ACP5 Health and Safety manual, which has been isued to all Wings and Squadrons